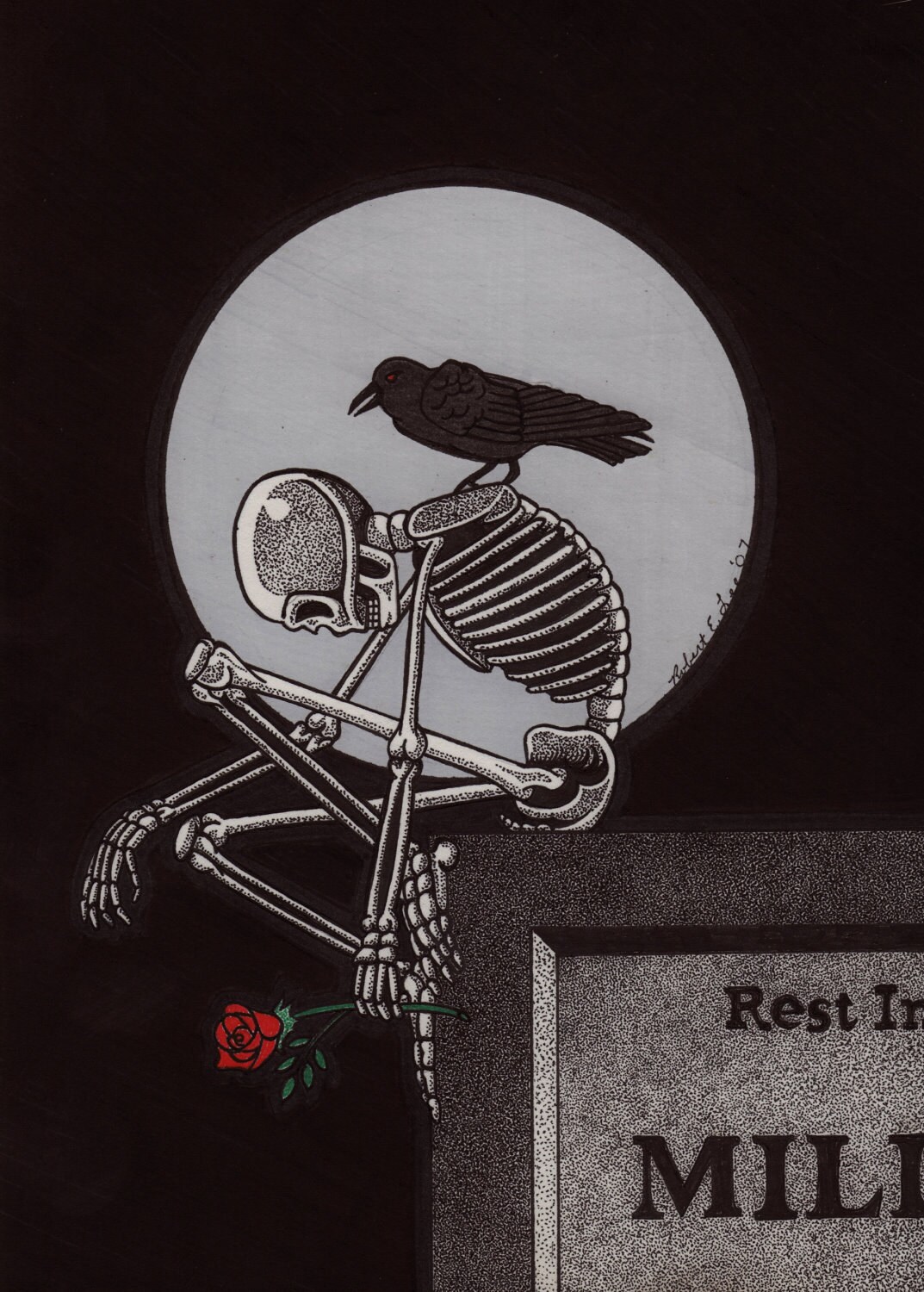 Aww, don't be so sad, Skellie, there's plenty more fun to be had!!
REMEMBER: leave a comment on this (or any of my Coffin Hop posts) to be entered into the contest for a super rad prize pack containing "
Play the Way Home
," my newest novel "
PINS
," and an ebook of the
Coffin Hop Collector's EP "Death By Drive-In."
And don't forget to visit the other rad writers on the Hop. There have been some really fantastic excerpts, prize packs, and other surprises along the way, and today will certainly be no different.
Today's post contains a youthful outing on Halloween night from the first book in my "Darla Decker" series. I hope to start submitting this book for publication next year, so feel free to let me know what you think!! So, without further ado, here's a selection from "Darla Decker Hates to Wait."
***
Halloween was one of those rare nights when the past and future wounds of schoolyard rivalry were forgotten. It was a children's holiday. Their only enemies were the adults who refused to reward them with sweets. While the younger kids gorged themselves on sugar, the big kids doled out pranking punishments for neglectful grownups. As long as the younger kids kept silent about the tricks, the bigger kids kept their teasing opinions to themselves for the night. It was a welcome arrangement for any kid who was forced to wear a costume regrettably chosen by his or her parents.
Lisa was dressed as a mummy with fashionable, hot pink wrappings, but true to her nature, she wasn't fashionable alone. Between the wrapping were wounds oozing fake blood down her arms and legs. While Darla raved about the disgusting touch, Brian complimented her on how awesome her boobs looked in the costume. Despite the truce between factions on Halloween, not every snarky comment was silenced.
"I didn't think you'd make it out," Lisa said.
"Me neither. But I don't really want to talk about it, if that's okay," Darla replied. "Do you think I could stay at your house tonight?"
"I wish you could, but my mom is making us go to Wayne's for the weekend. We're leaving when I get home."
"I don't understand what your mom sees in him. He's such a dork."
"I know. Maybe they'll break up soon. He's trying to get a job in Virginia or something. My mom tried a long distance thing before and it didn't work out at all," she said.
"I remember. The guy with the weird smell, right?"
"He worked in a crab house. I couldn't eat crabs for over a year because of that jerk," Lisa said. "At least Wayne doesn't smell like crabs."
"No, but he probably has them," Nate said as he jumped between the girls.
"Aren't you supposed to be hanging out with Ricky?" Darla asked.
"Knock knock," Ricky said as he rapped on Darla's cardboard costume.
She hardly recognized him. He usually blended into his surroundings like a quiet chameleon, but he really stood out dressed as a glam-rock star.
"Wow, that's quite a costume," Lisa said.
"Thanks. I like yours too," Ricky replied.
Darla saw opportunity explode like fireworks between the pair. Even though she no longer had a boyfriend, she didn't plan on staying single for long; at least, she hoped not. If Nate hadn't been joking about Darla being the "girl to date," she'd probably have a new boyfriend before the year was through, and she still wanted the same for Lisa. Anyway, Lisa probably needed something to distract her from the repeated trips to stupid Wayne's house, and Ricky Freeman could be just the thing to boost her spirits and make her and Darla as close as they used to be.
Ricky was as tall as Lisa, so she couldn't complain about height, and because he was so quiet, Darla didn't think Lisa could deem him "too immature." Based on his Halloween costume, he liked hot pink just as much as her, so they already had things in common.
"What are you supposed to be?" Joey Barnes asked Ricky.
"I'm kind of a mix between David Bowie and Gene Simmons from KISS."
"You look like a guy who'd want to kiss David Bowie," Justin said.
"I wouldn't blame him," said Kelly Holbine, an eighth grader from up the street. She was dressed in a skintight catsuit that Darla didn't recognize as a cat costume until Kelly pulled on a pair of pointed black ears mounted on a headband.
She hung on Brian Decker's arm, but he quickly shook her off. She then flitted to Joey, who gladly accepted her clinging. She was rumored to have dated every eighth grader in Shiloh Farms and a few of the high schoolers too. Darla didn't know any of the specifics of Kelly's short relationship with her brother, except that one day he was calling her his girlfriend and the next, she was "Kelly Whorebine."
The houses that were dumb enough to leave out bowls of candy instead of answering the door lost their offerings in the first hour of trick-or-treating, and unfortunately, the majority of the neighbors decided to be dumb that year. By the time Darla's group reached the other side of the neighborhood, many of the bowls had been emptied. Without the hunt for candy to occupy them, good behavior became hard to hold onto. The older kids dug into their bags of tricks while others played impromptu games of flashlight tag or hunkered down in the woods and began trade negotiations. Darla tried to arrange for Ricky to sit next to Lisa in the woods, but he was much more interested in playing flashlight tag with Nate. So, after a bit of protest, Darla gave up and let him go. She removed her Oreo sandwich board and dumped her candy onto the back. There was little to be done with the boxes of raisins. Other kids would take them, but they wouldn't trade for them. Sugar Daddies were a similarly hard sell, but Darla knew how much her mother liked them, so she held onto hers in the hopes of making a sugary apology later.
"I'll give you a bag of jellybeans for a peanut butter cup," Lisa said as she dangled them in front of Darla.
"But peanut butter cups are my favorite."
"Mine too, and I don't have any," Lisa whimpered.
"And I guess I don't have any jellybeans. Okay, it's a deal," Darla said, and they exchanged the treats. "Wait, there's only one red jellybean in this bag and the rest are blacks. I hate blacks!"
"That's so racist," a voice said from the shadows.
Her flashlight illuminated Travis Haines' face, as well as the faces of the boys behind him, one of which belonged to Jason.
"I meant black jellybeans," Darla said to Travis.
"Says the girl dressed as a member of the Ku Klux Klan."
"I'm an Oreo," she replied.
"You look like a tampon to me," Mark Rickman replied.
"That's what I said," Brian chimed as his group returned with empty egg cartons. "Okay, where did I put that extra toilet paper?"
"Haven't you TP-ed enough houses?" Darla asked.
"You know what they say: the show's not over till the cat lady sings," he said. "We're going to TP Mrs. Marchio's place."
"Are you crazy?" Justin said. "You can't go to that house on Halloween. She's a witch! She'll turn you into one of her cats!"
"Don't be stupid. Marchio's house is no different than anyone else's. Besides, we're not TPing her house. We're going to get the bus," Joey said.
"You can't! Brian, you're going to get us into more trouble than we're already in," Darla said.
"You're the one in trouble, not me. Plus, it's not like we're going to get caught. I never get caught."
"You got caught last summer," Darla said.
"Like anyone but you remembers that."
"I remember," Travis said. "You guys set off fifty smoke bombs in Officer Geers' backyard. It was hilarious."
"Brian didn't think it was so hilarious when he was grounded for a month," Darla said.
"I wasn't really grounded. I snuck out all the time," he scoffed proudly. "Just stay here and keep your voice down. We'll be back in five minutes."
"You coming?" Mark asked Jason as he started after Brian.
"I'm good. I'm gonna see if Decker will trade me some Twizzlers for a Snickers," Jason replied.
"Fat chance," Darla chuckled, paying no more attention to the boys who thrived on tricks.
"Come on, be a friend," Jason said.
Darla sighed dramatically. "Ok, I guess."
She tossed him a pack of Twizzlers in exchange for a Snickers. She loved Snickers almost as much as peanut butter cups, but she didn't mix that one in with the rest of her stash. She planned to save the sweet from Jason for as long as she could.
"I'm surprised you didn't go with the others. Don't all guys love toilet papering stuff?" she asked him.
"Do all girls like playing with Barbies?" he replied.
"I don't."
"Me neither," Lisa said.
"So you get my point," he said.
"I loved Barbies when I was little," Kelly said as she sucked on a Sugar Daddy.
"Again, my point," Jason chuckled.
Darla couldn't help but sigh at his smarts. His pirate costume didn't hurt her affection for him either. She imagined him sailing forth to rescue her from a tower by the sea, killing all who would keep them apart, and whisking her off to a beach under sunset, where they made out for hours. She briefly wondered where the nearest sea was and if there were any nearby towers where she could wait for her dashing pirate love.
"I heard you're trying out for show choir," Jason said.
"I was thinking about it."
"You should. It's pretty fun."
"You're in the show choir? How?" Darla asked.
"I auditioned over the summer. My mom always said I had a nice voice, but I didn't really believe it until I got in. I didn't know if I'd like it or not, but I love it now. There are a bunch of spots opening up at the end of the year, you know, but the auditions are only a few months away. You better start practicing your 'My Country Tis of Thee.'"
"Ew, do I have to sing that?"
"It's either that or 'Happy Birthday.' I'd go with 'My Country Tis of Thee' if I were you. Actually, I did," he said with a grin.
"Wow, no wonder Heather and Karla are always fighting over you," Darla said.
"What do you mean?"
Darla wasn't sure how to answer without revealing her crush. Instead, she popped a pair of wax lips with fangs in her mouth and growled at him. He laughed, and her heart sighed in relief.
"Run!" a voice shrieked from the edge of the woods, swiftly followed by Brian and his cohorts barreling through the trees.
"What's going on?" Darla asked.
"Just shut up and run!" Brian yelled as he tipped her candy stash back into her bag.
Despite Brian's commands, the roar of an engine stopped everyone in their tracks. The engine revved furiously, but an unfamiliar sound followed it: a high-pitched, yowling sound.
"What the heck is that noise?" Darla asked, but the sudden and blinding headlights burned the question away.
Toilet paper fluttered from the top of the school bus and drifted off into the night, but the face of the woman at the wheel didn't move at all. Mrs. Marchio slammed her fist down on the horn and sent the trick-or-treaters running deeper into the forest. The kids playing flashlight tag halted their game to ask what was going on, but they were pulled into the terrified flight to the other end of the woods before anyone could offer an answer.
"She was in the damn bus," Brian panted when the group came to a stop.
"You saw it? You saw her?" Nate asked. Darla nodded as she pinched her stomach cramp. "Dammit! I missed it again!"
"At least she didn't see you. She saw all of us," Lisa said. "My mom is going to kill me."
"Marchio won't say anything. She never does," Mark replied.
"She seemed pretty angry," Jason said.
"Don't tell me you're scared of an old lady, Bollinger," Travis snickered.
"You were running pretty fast yourself, man."
"Only to keep up with the rest of you wussies," he snorted.
On her way to catch up with Lisa, Darla accidentally knocked against Mark Rickman.
"Sorry," she said.
"Whatever, Playtex."
I hope you've enjoyed hanging out at No Vacation From Speculation this Halloween season. I've appreciated all of the wonderful comments and look forward to the next blog hop. The winner of the prize pack will be announced very soon, but keep those comments a-coming!!